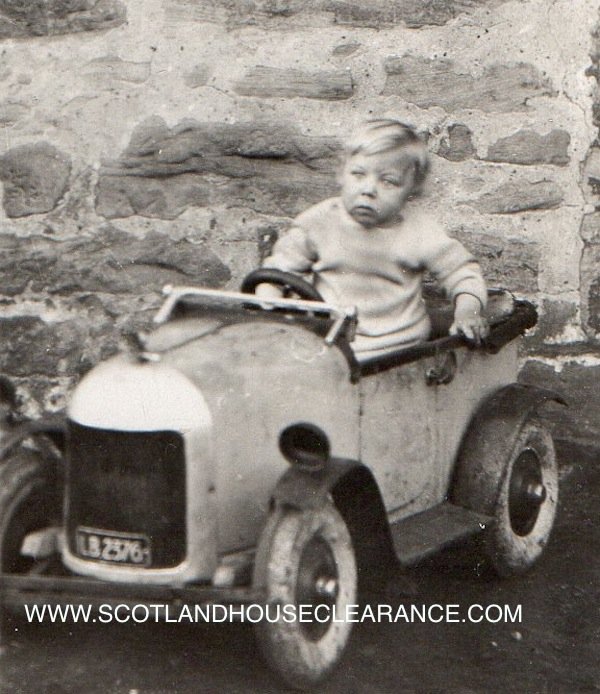 The following antique vintage photograph was acquired during a house clearance & unwanted by the families or owners of the properties cleared.
Pedal car facts/ history
Pedal cars appeared in the late 1880's, most of them were modelled from cars on the road at that time.
It was shortly after Karl Benz introduced the three wheeled motor wagon for adults, the Pedal car toy production began.
One of the first companies to produce pedal cars was Whitney Reed.
Juvenile Steel Automobiles – These toy pedal cars were manufactured and produced by the Butler brothers. The models that they manufactured were the Wizard, Speedwell and the Scorcher that were made from sheet-steel, open steering systems, double-spoke wheels, bottoms and pedals.
Pedal cars were toys for upper class children as they were very expensive and therefore were only bought by wealthy families.
Before the war Bon Marche in Paris began selling pedal cars that were designed after the Grand Prix Peugeots, and after the war the French toy maker Eureka continued the trend by making pedal cars fashioned after these cars.
In the 1940's pedal cars had stop being produced as all metal productions were used for World War II.
In 1950's pedal cars grew more popular and were available in all major toy stores, by this time more families could afford to buy chain driven pedal cars for their children as they were cheaper.
Pedal cars were designed to resemble the most current trends of the automative world and were produced in different sizes, colours and models.
They had many different working features such as horns and lights, moveable windshields, hood ornaments, chrome detailing and ragtops.
Upper class children would often get custom paint jobs on their pedal cars.
Once pedal car manufactures realised that there was a huge desirable market for these ride-on toys, they began expanding their range by manufacturing pedal trucks, pedal planes and tricycles.
In the 1960's the pedal car began fading out of existence when the plastic car was introduced.
The plastic pedal car was introduced to children for higher toy safety standards. The metal pedal car was no longer a desirable toy for children and shortly stopped being manufactured.
Related Posts