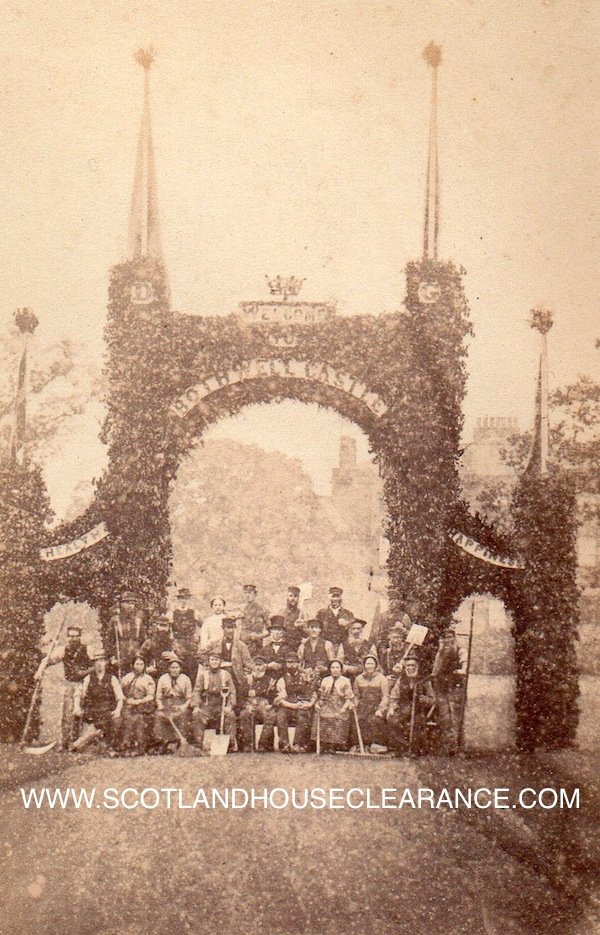 The following antique vintage photograph was acquired during a house clearance & unwanted by the families or owners of the properties cleared.
Bothwell castle facts/ history
Bothwell castle is a large medieval castle in South Lanarkshire, Scotland.
The Bothwell castle was built to be intended to be a large and imposing fort.
Bothwell castle is one of the outstanding monuments of medieval Scotland.
It was built on a bluff above a bend in the River Clyde. The building of the castle was started by Walter of Moray in the 1200's. The original design of the castle was never completed.
The Bothwell castle that is seen today was finished in 1400 by Earls of Douglas.
When the Earls of Douglas were repairing the Bothwell castle they built the North East and South West towers of the castle and the range between the two.
In 1296 Edward I invaded Scotland and captured both William and Bothwell castle. By this time only the prison tower and the donjon had been completed.
Bothwell castle played a major part in the wars between Scotland and England, both sides gained and lost the possession of Bothwell castle many times.
In 1336 Bothwell castle became the headquarters of King Edward III, during his invasion of Scotland.
In 1935 Bothwell castle was placed in the care of the Scottish state and is cared for by historic Scotland today.
In 1362 Bothwell castle was passed to the Black Douglas family through marriage. The Douglas's rebuilt the castle, keeping the structure of the Moray's initial design.
The Douglas family gained possession of the Bothwell castle when Archibald married Joanna of Bothwell.
The castle was once considered one of the most important stronghold for war in Scotland
In 1314 following the victory and Bannockburn, the Bothwell castle provided shelter for a huge amount of English nobles.
The Bothwell castle's constable was Sir Walter FitzGilbert.
When Sir Andrew Murray Re-claimed the Bothwell castle, he pulled down the West side of donjon and tumbled it into the Clyde.
The Bothwell castle was abandoned in the 18th century.
Related Posts