How does our house clearance service work?
We usually just require 48 hours notice, we like to turn up at 9am on the day of our appointment. We can clear a standard 3 bedroom house in approx 3-4 hours.
If you are unable to be present during the house clearance we can pick keys up from solicitors, estate agents or neighbors and hand the keys back when the house has been cleared.
We will clear everything you ask us to clear, even the food from the cupboards, we can disconnect all white goods proving they are standard connections & uplift carpets if required.
We charge a straight fee, the fee pays for our staffs wages, our fuel and all recycling center fees, if the property has a lot of items and we can not fit everything into our van we may have to do a 2nd load which costs 50% of the fee this basically just covers the costs of the recycling center for the extra van load. The house clearance will still be completed on the same day. How Much Does House Clearance Cost? More...
Accreditation's, Reviews & Comments
We are members of AFTA – Anti Fly Tipping Association & list many genuine letters of recommendation from past house clearance customers. House Clearance Reviews More…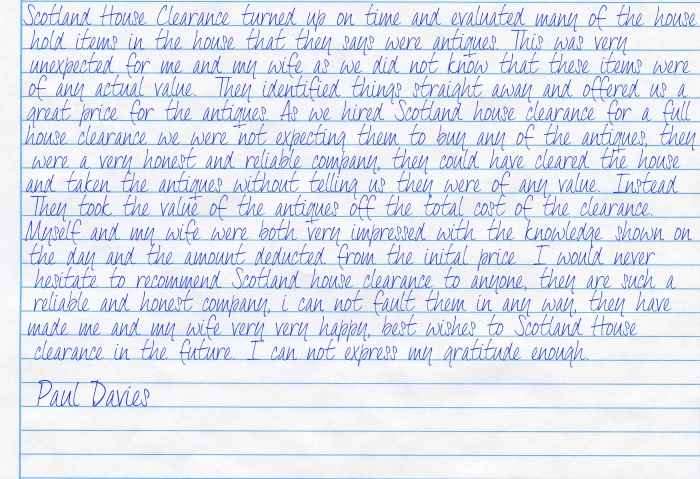 Charity & House Clearance
We donate good clean reusable items to the following charitable organizations on a regular basis.

All reusable items are first taken back to our large warehouse where they are sorted, packed & then delivered to many organizations across Scotland. Charity & House Clearance More…
How much notice do we need?
The more notice the better but 48 hours notice is usually just fine, many of our house clearance customers book a week or two in advance but there are times when circumstances may require a quick turn around i.e. an offer on a house has went through quicker than you thought or other commitments mean you have a limited time scale either way we will not let you down. House Clearance Notice Required More…
Facts:
We can load 1.5 ton of house clearance items into our vans…
Our vans hold approx the same volume as 4 eight yard builders skips…
All our vans are unmarked for complete customer discretion…
Lastly – Nobody and we mean nobody can pack as much stuff into a van like Scotland House Clearance can… Size Of Our House Clearance Vans More…
Big big loads…